Gas Guzzlers Extreme - Gold Pack (2013/MULTi2/RePack) +2DLC 1.0.8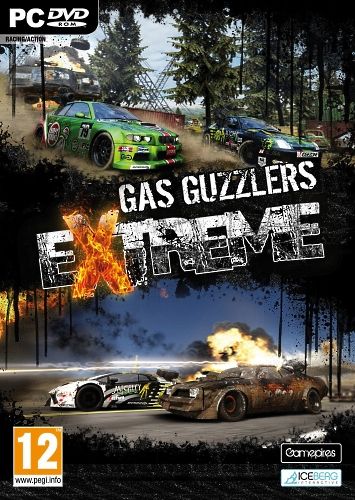 Gas Guzzlers Extreme - Gold Pack (2013/MULTi2/RePack) +2DLC 1.0.8
PC | MULTi2 | Developer: Gamepires | Publisher: Iceberg Interactive | 5.75 GB
Genre: Racing, Arcade
Players start with a weak vehicle and gradually increase their earning money in a series of complex tras.Kategorii, tracks and vehicles are unlocked as player progresses throughout the game. Along with the development of his driving and fighting skills, the player has to invest their hard earned money wisely to come to glory.
Zombie apocalypse descended into high-octane universe Gas Guzzlers Extreme! Usually it is terrible news for humanity, but not in this case! Armed to the teeth in his jalopy, using mnozhetsva crazy amplifiers at each stage, you have more than sozhesh decent resistance to the hordes of the undead. But be careful, these mozgoedy will fight back, and they will have their own weapons, also has driven too many of them, your wheels will slide from the blood, and you perepadet unplanned buffet!
Full Metal Zombie DLC is played as an entirely new game! In it you will find a cloud of new content, such as Ragdoll physics, artificial intelligence zombies, blood and flying body parts everywhere. Enter the world of zombisnosyaschego fun! '
installation Procedure
1. Download the distribution.
2. Set any convenient place for you.
3. Play!
Features
- The quintessence of the genre of "race to the bottom" that provides single-player campaign, designed for 12 hours of gameplay.
- Adrenaline online championships in seven different modes (classic race, the power race, endurance race, the race Shootout, a deadly game, the last survivor, and capture the flag); Up to four teams at the same time participating in the race.
- More than 560 kilometers of roads paved through 40 tracks, 8 arenas in 7 different locations around the world.
- 12 unique weapons, power-ups and gain.
- 18 customizable machines (more than 12 enhancements, changing colors, wheels, stickers, etc.).
- Trails with lots of forks and sponsored race.
- Quick play with bots to which at any time can join other players.
- Beautiful visuals high-resolution, motion blur, and custom car coloring options.
- Full support for the feedback to the controller, and keyboard, joystick, gamepad and steering computer.
- Sea inimitable humor.
[Collapse]
Features Repack-a
- The basis is taken from the release PROPHET (from 12.07.2016g.)
- Do not cut / no recoded
- Game Version - 1.8
- The book includes:
The main game Gas Guzzlers Extreme
Additions:
- Gas Guzzlers Extreme: Full Metal Frenzy DLC
- Gas Guzzlers Extreme: Full Metal Zombie DLC
- Installation time 10 minutes.
Repack by xatab
Update list
Gas Guzzlers Extreme DirectX 11 build and 1.8 patch RELEASED
JULY 11 - LEVAOPAKI
Change log:
-------------------------------------------------- --------------------------------------------------
- Version 1.8.0.0
-------------------------------------------------- --------------------------------------------------
- New DirectX 11 rendering engine (DirectX 9 rendering is available as different branch)
- 5-10 times faster map loading times
- Lots of optimizations across the engine
(New animation system, new math library, new binary mesh format, new texture loader)
- Data optimizations. Game is 1 GB smaller for the same content
- Rendering optimizations
- Improved probe reflection quality and ambient light
- Fixed frame drops regarding particles at start of the race
- More stable FPS
- Faster and higher quality SSAO
- Fixed Bloom bug on AMD graphics cards
- Fixed bug with human player applying too much damage and taking 0 damage
- Engine switched to Visual Studio 2015
Esche GAMES
Games for PC
Games for iPhone & Androids
Alicemare / Nightmare Alice
Agapan
Alter A.I.L.A. Genesis
Attack On Titan / Attack on Titan
Ballpoint Universe
Bloody Streets / Bloody street
Breakout Invaders
Canyon Capers
Cat Game / Game Koshkin
Chain Of Retribution / Retribution Chains
Chibiwa
Chicken Invaders Ultimate Omelette: Thanksgiving Edition
Claws and Feathers / Bird Trouble
Corpse Party / Party of the dead
Crafting Story
Dragon Dish / Drakensberg Measures
Dreaming Mary / Marie Mechtayuschaya
Epic Battle Fantasy 4
Expendabros / The Expendables
Final Fantasy Blackmoon Prophecy Plus
Global Outbreak: Doomsday Edition
Ghost School / Ghost School
Grimind
GunHound Ex
Halfway
Ionball 2: Ionstorm
Lovely Planet / Lovely Planet
Mad Father / Father Mad
Malevich
Meltdown
Mega World Smash
Misao / Misao
Mutant Colossus from Outer Space
Painted Heart / Painted Heart
Rodina / Homeland
Sailor Moon Game Universe
Sailor Moon RPG: Moon Child
SAILOR MOON ANOTHER STORY 2
Seven Mysteries / The Seven Mysteries
Shovel Knight
Soccer Physics
Super Time Force Ultra
Taxi
The Crooked Man / Man Krivoy
The Fall Episode 1
Vampire Hunter D
Vanish / Disappear
Vector
Velocibox
Vintage Year
Witchworks / Witch at work
Operating System: Windows XP / Vista / 7/8
• Processor: Dual-core 2.6 GHz;
• RAM: 2 Gb
• Videokartar: GeForce (R) 4870 280 or AMD / ATi) with 512 MB RAM
• Free space on hard disk: 16 Gb
PLEASE SUPPORT ME BY CLICK ONE OF MY LINKS IF YOU WANT BUYING OR EXTENDING YOUR ACCOUNT


Hello Respective Visitor!
Please Login or Create a
FREE Account
to gain accesss to hidden contents.
Information
Would you like to leave your comment? Please
Login
to your account to leave comments. Don't have an account? You can
create a free account
now.